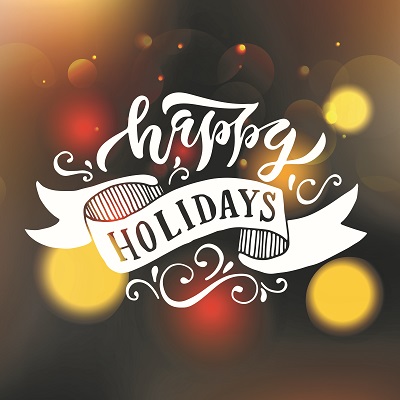 I will be taking a short trip to Scotland soon. There I will spend the holidays with my youngest daughter. My bags will include warm clothes and space for presents I hope to bring back for family and close friends. As I pack, it's nearly impossible not to think about the long nights that winter brings, especially in that part of the world. The sun will rise in the late morning and set by mid-afternoon.
Furthermore, it is expected to rain the entire time I'm there!
It is no accident that so many of the holidays observed during this time of year focus on light and hope. Before modern methods changed food production and storage, lighting, and heat, it took an entire community coming together to keep its members alive and reasonably well. Holiday celebrations were a way to keep hope alive when times seemed darkest. Those gatherings reminded everyone that they were not alone and that together they were stronger.
Today Excel Technologies has employees of many faiths who come from different parts of the world. You may hear "Merry Christmas" or "Feliz Navidad" or "Happy Hanukah" or "Blessed Yule" or "Happy Milad un Nabi" or even "Merry Festivus!" (to name a few). I know that no matter which greeting is used, the message is this: "Have hope. Be of good cheer."
A few weeks ago we held our holiday party. We did it "virtually" via teleconference and beforehand we sent out a box of presents to each employee with strict instructions not to open beforehand. Of course, not everyone listened (Tom) but for those who did, I thoroughly enjoyed seeing their faces as they dug in and pulled out each item. I was reminded of my family's celebrations over the years with the kids excitedly digging in to the gifts under the tree. The laughter and joking was reminder that even though we are apart, we are still one company and this company is lifted by our community of employees.
Holiday greetings are coming in from our partners and clients and each card or message is a reminder of our broader community and how blessed we are to be able to collaborate with other extraordinary people.
Yet, as I am writing this, I am also watching the news coverage of the attack on the Christmas Market in Berlin. It is the fourth attack on the people of Germany this year. My heart hurts for them and for so many others who have lost loved ones to the dark acts of violence and hate in 2016. We, as a company, have spent our entire history working to make the world a brighter and better place and we will not stop. Together we are stronger than hate.
So, dear friends, I say: Have Hope. Be of Good Cheer.