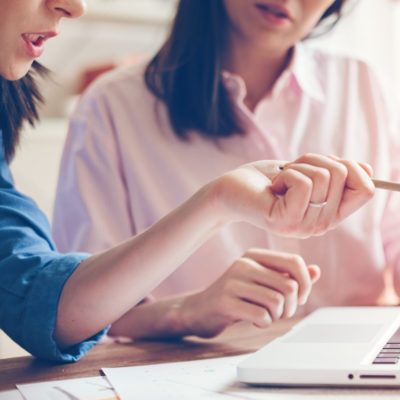 The Woman-Owned Small Business (WOSB) Program was designed to provide opportunities for women-owned businesses to participate in federal contracting. The program assists in accomplishing the federal government's goal of awarding five percent of its prime contract and subcontract dollars to WOSBs. Though this program is in place, it is often underutilized.
The designation for the Woman-Owned Small Business Program is 8(m). It is sometimes confused with the 8(a) Business Development Program, which is targeted at helping socially and economically disadvantaged businesses access opportunities within government contracting. Studies have shown that women-owned small businesses that participate in the 8(a) program still remain comparatively underutilized. As a result, the 8(m) program was developed specifically to address this continued gap in opportunity and to further bring awareness to the value women-owned small businesses bring to the federal government mission.
There are two ways to contract with a Woman-Owned Small Business: set-aside or sole source. An acquisition can be designated as a set-aside for a Woman-Owned Small Business if it falls under an NAICS code in which a set-aside is allowed. These NAICS codes are listed on the U.S. Small Business Administration website: http://www.sba.gov. Under the WOSB Program, we are eligible for set-asides in the NAICS codes listed below.
OUR NAICS CODES
323111 – Commercial Printing (except Screen and Books)
512110 – Motion Picture and Video Production
541330 – Engineering Services
541430 – Graphic Design Services
541511 – Custom Computer Programming Services
541512 – Computer Systems Design Services
541513 – Computer Facilities Management Services
541519 – Other Computer Related Services
541611 – Administrative Management and General Management Consulting Services
541612 – Human Resources Consulting Services
541613 – Marketing Consulting Services
541618 – Other Management Consulting Services
541690 – Other Scientific and Technical Consulting Services
541990 – All other Professional, Scientific, and Technical Services
541620 – Environmental Consulting Services
541922 – Commercial Photography
If two or more WOSBs exist that are capable of addressing requirements within the applicable NAICS code, the contracting organization can offer the opportunity under a WOSB set-aside. In this case, the contract must be competed. However, if only one WOSB exists that can satisfy the contract requirements within NAICS code, the contract can be sole-sourced to the one WOSB identified. In this form, the contract value may not exceed 4 million dollars.
For prime contractors, having a WOSB as a subcontractor can be the enticing piece that distinguishes their proposal from the rest and wins contracts. Many government agencies are actively searching for ways to meet the federal government's small business goals through subcontracting.
We are proud to be a Woman-Owned Small Business and through the WOSB Program we look forward to giving our clients the personalized attention and commitment to detail that they deserve.